Measuring Transformer Coupling Coefficient
Process for measuring transformer coupling coefficient, k, using SimSmith, for a FT114-61 Ferrite Toroid core with 10T #22, close spaced, on opposite ends of the core.
Measuring coil inductance using AIM-4170D
AIM-4170D bench setup for measuring coil inductance. Also pictured are the OSL devices used to calibrate to the SO-239.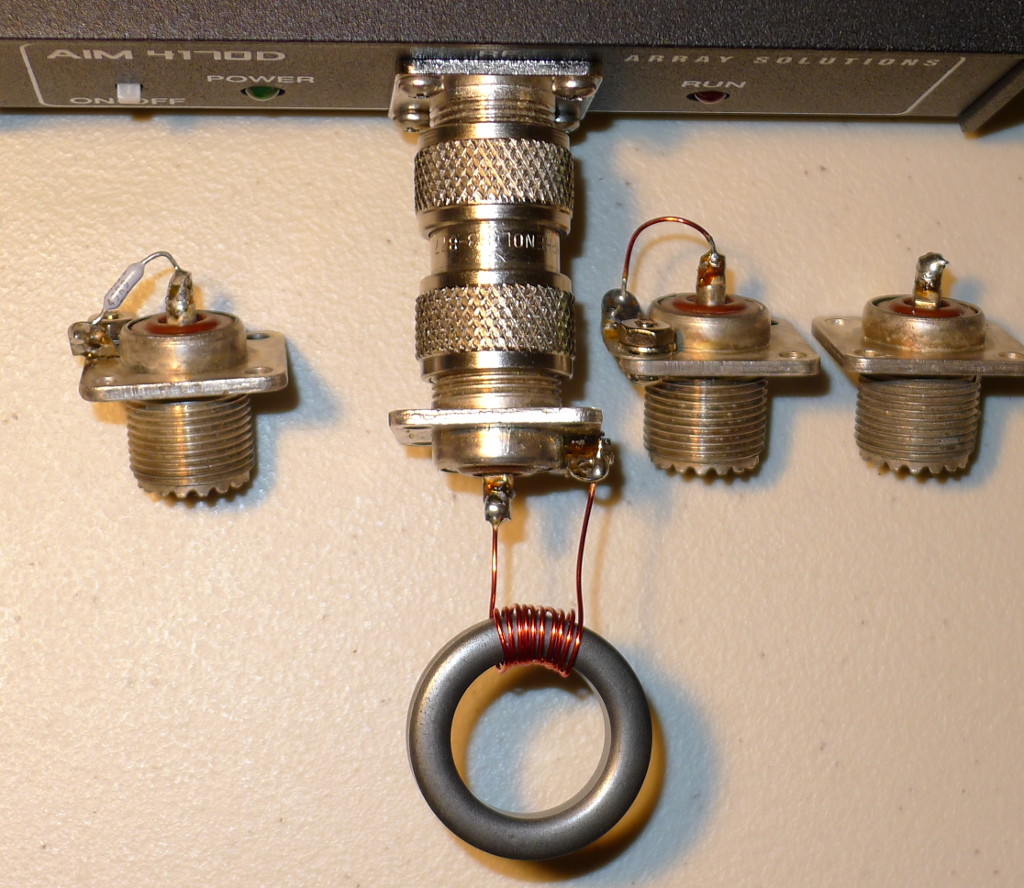 Set up VNA such that the measurement is taken close to Xs = 50 Ohms.
Ls = 9.9738 uH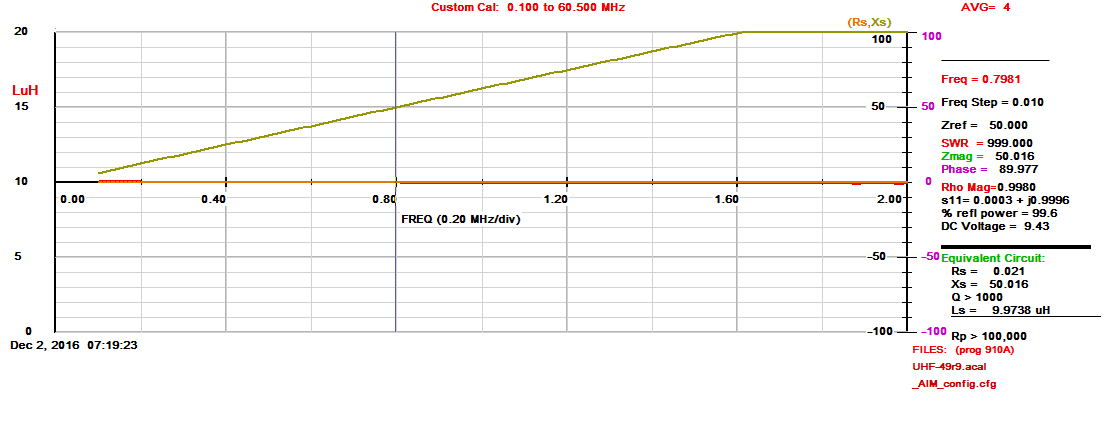 Measure coefficient of coupling using SimSmith
A trial and error step was performed to find a capacitor value which matches the leakage inductance of the device. The selected load is a 47 pF capacitor in series with a 49.9 Ohm load resistor. This step is required to keep the measurements within range of the VNA.

Using a "coupled" SimSmith transformer block, adjust k for best match to measurement.
k = 0.6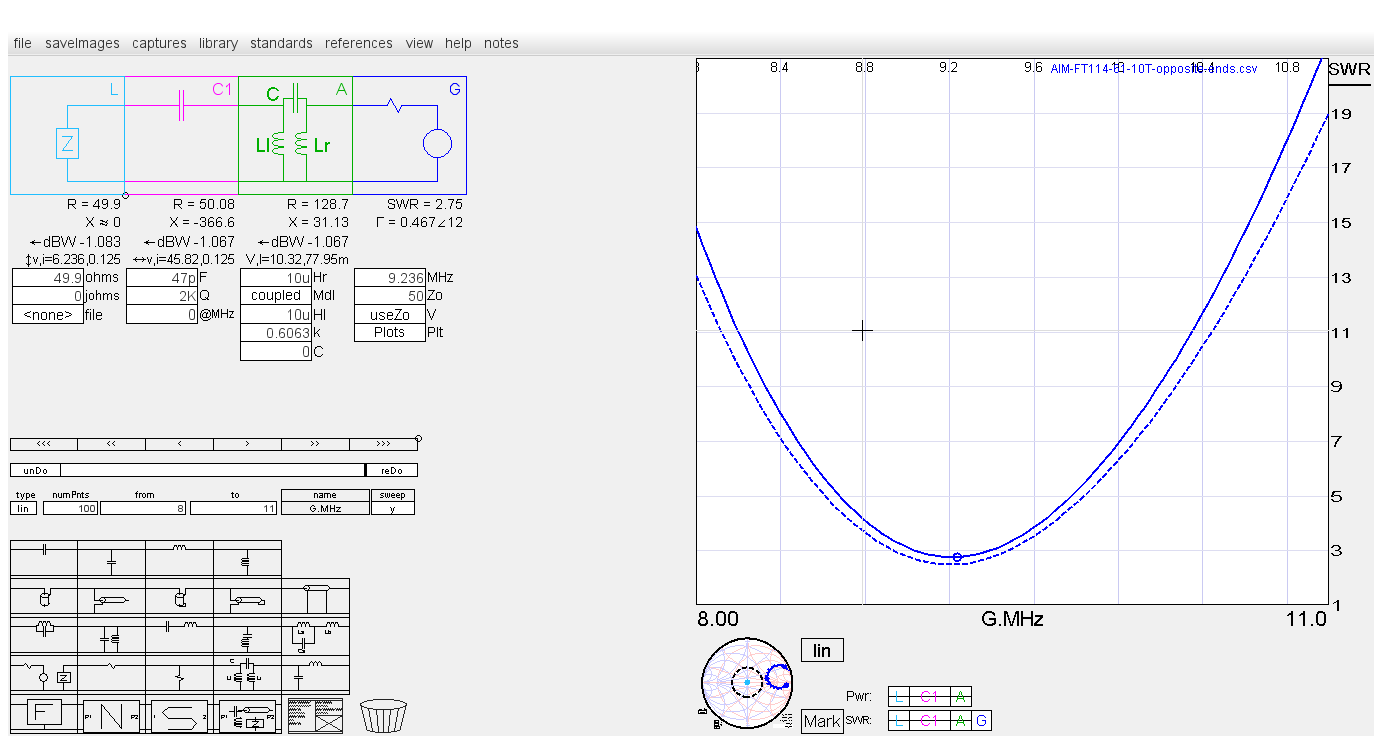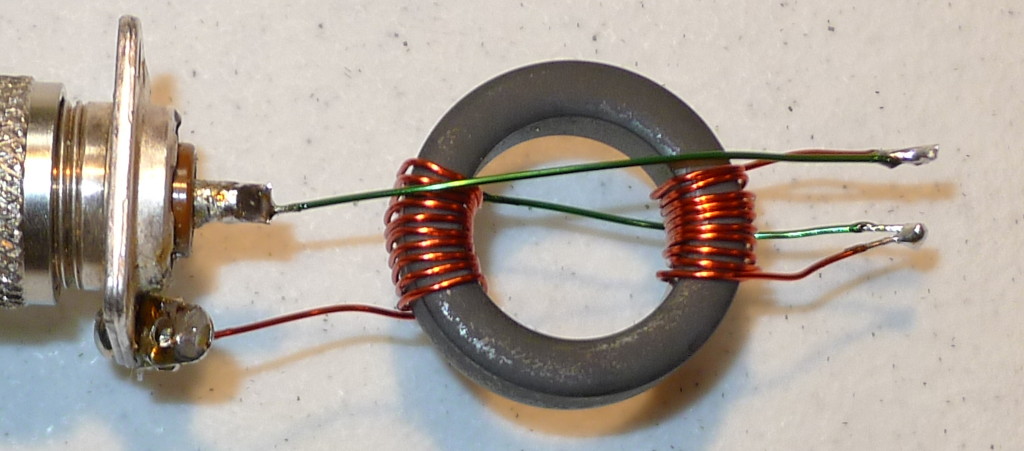 Example Secondary opposing measurement
Measure coefficient of coupling using Secondary Open Short Method

Formula for the secondary open-short method:

k = SQRT(1 - Lshort / Lopen)
An approximation which assumes the wire resistance is zero.



AIM-4170D Measurements
Value
L uH
Measurement
KHz
Zmag
Lopen (L1 with L2 Open)
10.0047
804
50
Lshort (L1 with L2 Short)
6.1366
1315
50

k solution

k = SQRT(1 - 6.1366 / 10.0047) = 0.62
Measure coefficient of coupling using Series-adding Series-opposing Method

Formulas for Series-adding Series-opposing method:

M = (Ladd - Lopp) / 4
k = M / SQRT(L1 * L2)



AIM-4170D Measurements
Value
L uH
Measurement
KHz
Zmag
L1 L2
10.0047
804
50
Ladd (L1 add L2)
32.679
246
50
Lopp (L1 oppose L2)
8.6192
939
50
L1 L2
10.0124
2000
126
Ladd (L1 add L2)
32.427
2000
407
Lopp (L1 oppose L2)
8.562
2000
108

k solution at 50 Ohm Zmag

M = (32.679 - 8.6192) / 4 = 6.015
k = 6.015 / SQRT(10.0047 * 10.0047) = 0.602


k solution at 2 MHz

M = (32.427 - 8.562) / 4 = 5.9663
k = 6.015 / SQRT(10.0124 * 10.0124) = 0.596
FT114-43
Measure coefficient of coupling using Series-adding Series-opposing Method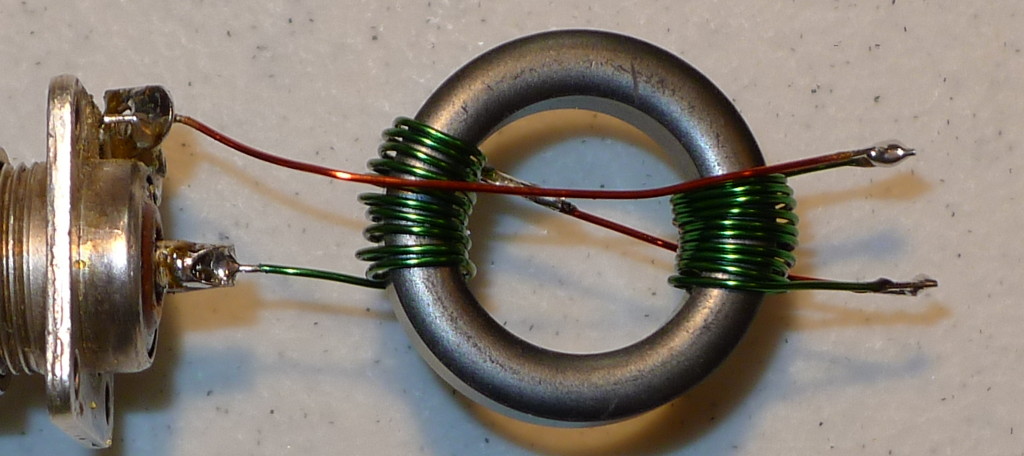 Example Secondary opposing measurement
AIM-4170D Measurements
Value
L uH
Measurement
KHz
Zmag
L1 L2
51.6
300
97
Ladd (L1 add L2)
198
300
373
Lopp (L1 oppose L2)
9.63
300
18

k solution

M = (198 - 9.63) / 4 = 47.1
k = 47.1 / SQRT(51.6 * 51.6) = 0.913
Measure coefficient of coupling using SimSmith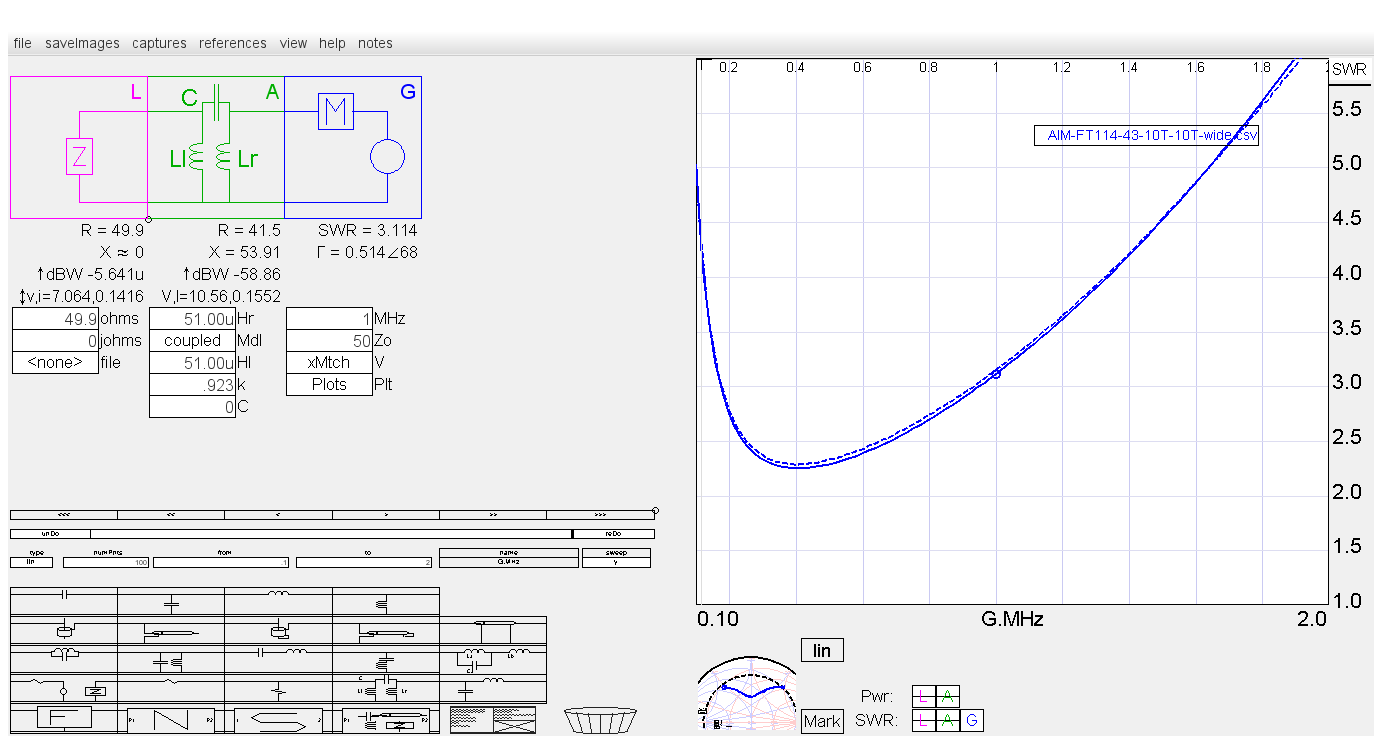 Measure Matched Loss
Using Elecraft KX3 with ATU and DL1
Loss = 0.30 dB

Using VNWA S21 with 1530 pF and 8.4 uH LC Network
Loss = 0.38 dB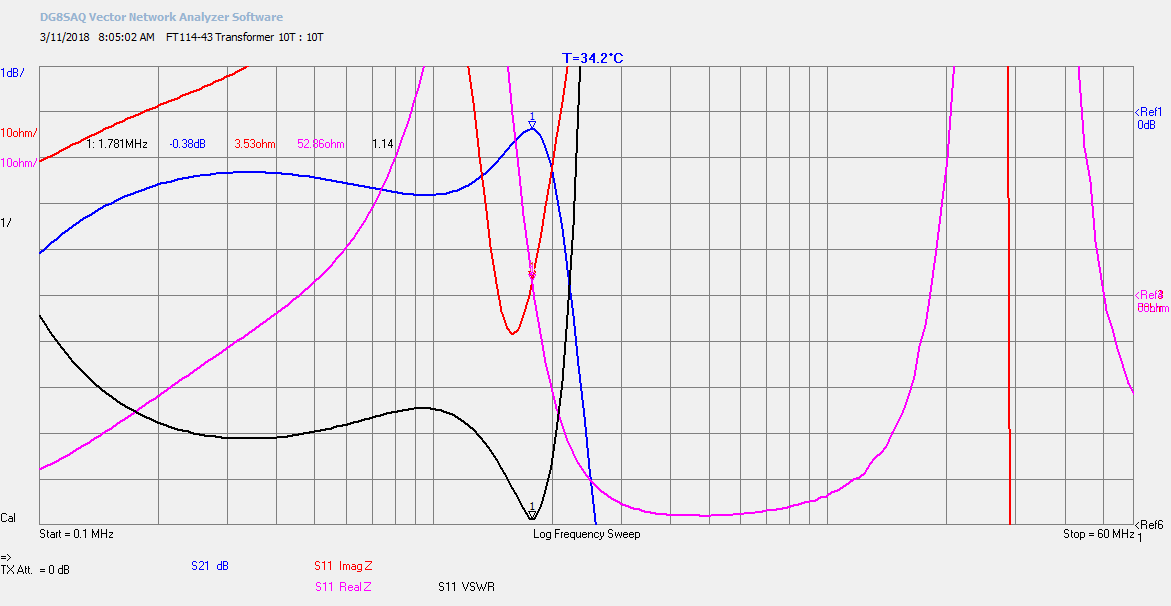 Evaluating Matched Loss using SimSmith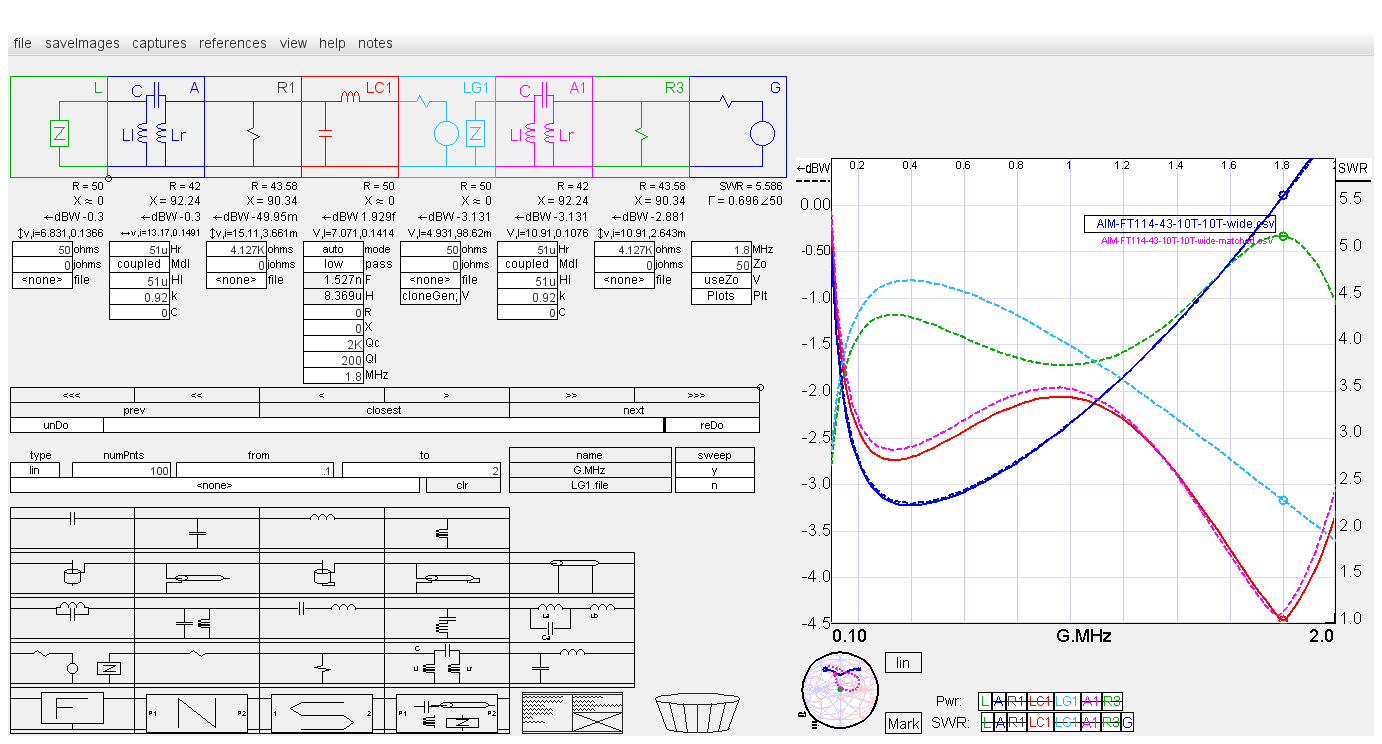 AIM 4170D Test Bench with LC Network
L inductor = T80-2 with 39T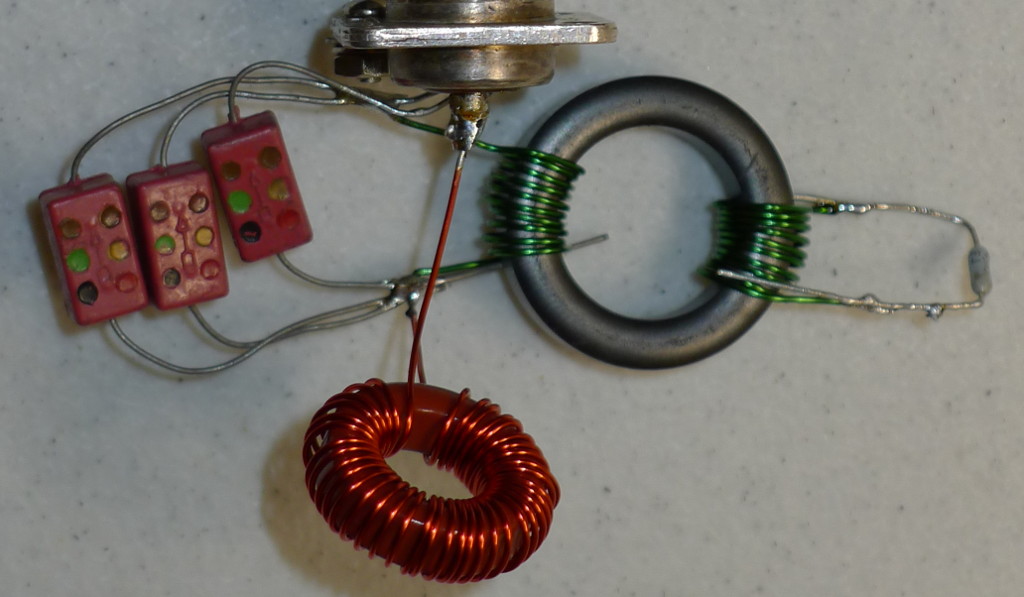 Using VNWA to evaluate LC Network Q
SimSmith model with S21 and S11 plot overlays